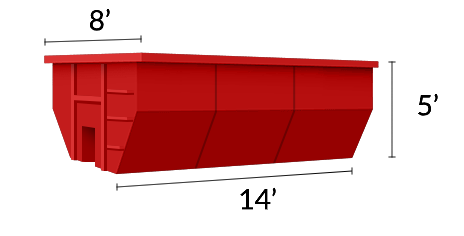 21 Yard Dumpster
$350 for 4 day rental
or

$400 for 7 Day Rental


Dimensions:

- 22' long

- 8' wide

- 5' tall

- 20 cubic yards


The 21 yard dumpster's volume and size makes it great for:
Full garage or attic clean outs

Cleaning debris from roofing jobs

House cleaning before a move

Landscape project cleanup

Demolition clean up

The 21-yard dumpster helps make cleanup a breeze. This dumpster offers all of the space you will need to haul junk and material from larger sized jobs like those listed above. No matter the job, this dumpster will help you get cleanup done in one big haul.
If you think that your project is more of a medium sized job that does not require the extra space of this dumpster, check out our 15-yard dumpster rental. It is smaller, but provides plenty of space for moving junk.